PORTLAND, Maine (NEWS CENTER) -- The owner of a Portland diner is defending her actions - and comments she made on social media - that have left many outraged.
Marcy's Diner on Oak Street in Portland's downtown is a busy place on the weekends. Owner Darla Neugebauer said that's partly what led her to snap at a child on Saturday.
Neugebauer said the child's parents had ordered three pancakes and then didn't feed them to the girl, causing the child to cry loudly. After attempts to get the family to leave, or to take the girl outside, the diner owner said she slammed her hands down on the counter and told the girl to be quiet.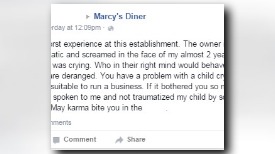 The child's mother posted on Marcy's Diner's Facebook page about her experience. Neugebauer responded from the establishment's account, even at one point saying, " you are lucky I didn't get really *blank* nuts because being physical is not something I cower from."
Despite getting backlash on social media from people who claim they will never eat at the restaurant again, Neugebauer is standing by her actions. "Life's full of choices and you've got to live with all of them. I chose to yell at a kid, it made her shut-up, which made me happy, it made my staff happy, it made the 75 other people dining here happy, and they left, they may never come back, other people may not come in. Their loss really," she said.
When asked if she felt sorry about her actions she replied, "Sorry isn't the right word. I might have used poor judgement. I wouldn't say I was sorry, because it stopped. When things stop, it's usually a good thing."
NEWS CENTER also got in touch with the parents involved in the controversy. Tara and John Carson were on vacation when they decided to stop into the diner, saying they like to support local business. They shared their side of the story as well.
Carson said the incident left her stunned and upset. "I turned to my daughter and I was like 'Listen, this is how I'm raising you not to be as an adult. Like, you will never be like this when you get older,'" she said. "I felt helpless as a mom that, you know, I couldn't do anything to help her, because I can't explain why there's crazy people in this world that behave like that."