SANFORD, Maine (NEWS CENTER) — A massive blaze broke out on Island Avenue in Sanford Thursday afternoon, where at least one woman was in the house when the fire started, according to a firefighter on scene.
They say that woman was transported to Goodall Hospital. Another man was taken to the hospital with unknown injuries.
The home, located at 33 Island Avenue, is where the fire began, according to Sanford Police. Flames spread to four other buildings. Two are a total loss. Officials said in a press conference the wind played a role in the spreading of the flames.

WATCH: Sanford Fire Chief delivers update on fire
Everyone has been accounted for "to the best of our knowledge," according to Sanborn Fire Chief Steve Benotti.
Injuries were reported, however, ranging from anxiety to a possible heart attack from bystanders. No firefighters were injured.
The Red Cross said Thursday night they are assisting a family of five and a family of three, who were displaced by the fire.
The initial 911 call came in just after 1:15 p.m, Chief Benotti said. The fire reached five alarms with 25 municipalities responding, including the State Fire Marshal's office. More than 100 firefighters were called in to help.

WATCH: 'Oh my God, get out!' Neighbor describes Sanford blaze
Meanwhile, Sanford officials evacuated students at nearby Lafayette Elementary School after the area was deemed unsafe. The kids were brought to an area at the Holy Family rectory to meet waiting parents, or get on buses.

WATCH: Students evacuated from Lafayette Elementary School
After two-and-a-half hours, the flames were under control. Officials say burning power lines and fallen live wires made the battle dangerous. Island Avenue is without power, with Central Maine Power on standby.
Chief Benotti said they have no reason to believe the fire was anything other than an accidental fire but will confirm that upon the completion of the investigation.
Around 7 p.m., crews began demolishing the destroyed buildings.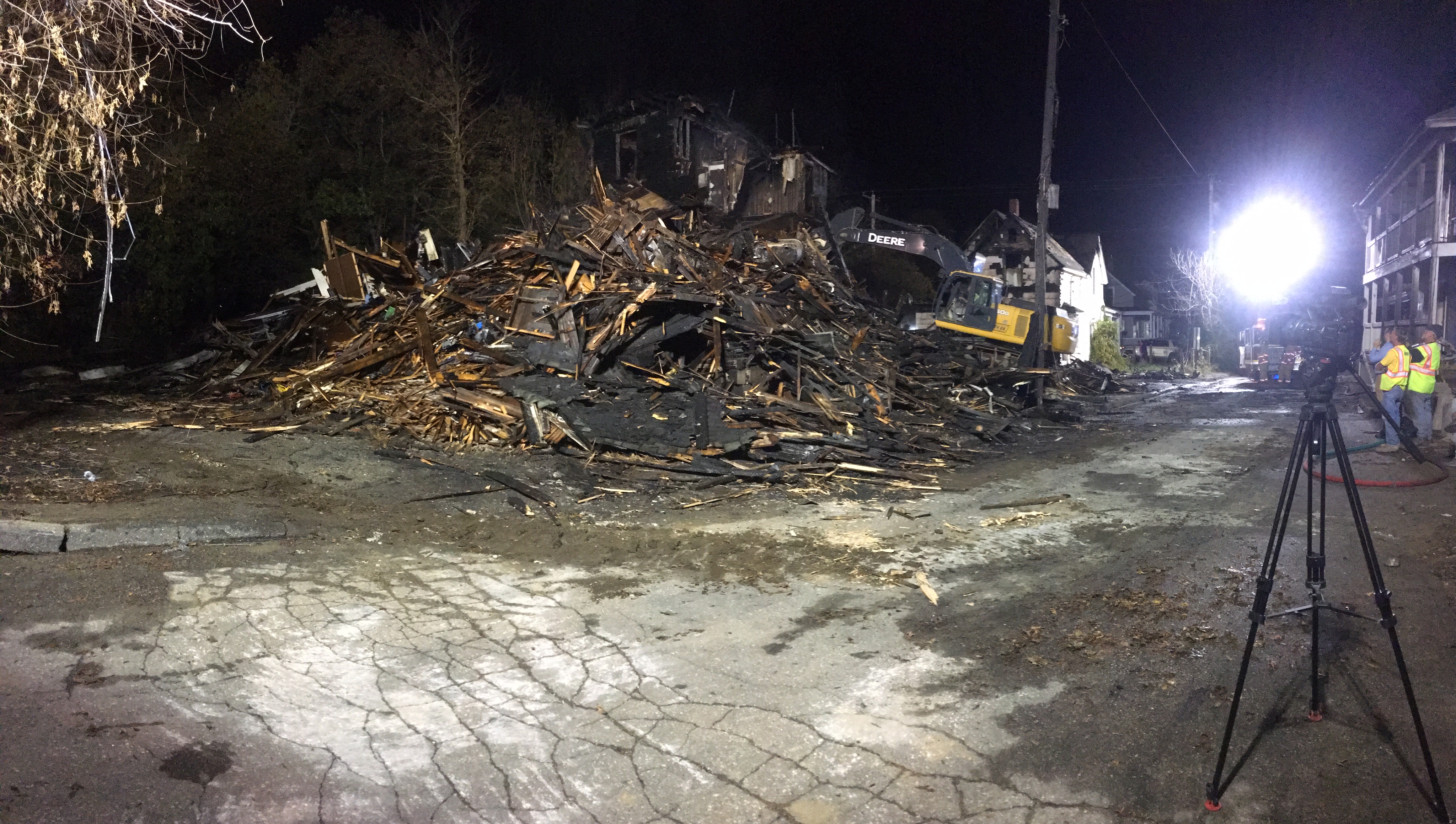 Police said they have arrested people who live at 33 Island Ave. in the past on drug charges. The surrounding area has been riddled with a number of challenges, including drug problems. Even city leaders say conditions are poor.
They say they've had many reports of buildings around here that have faulty wiring, are dirty, and have twice as many people living inside than they should.
GALLERY: Sanford fire - Island Avenue

GALLERY: Sanford fire - Island Avenue
This story will be updated.