FALMOUTH, Maine (NEWS CENTER) -- Falmouth Police confirmed Friday that they received reports of sightings of a large cat in the area of Middle Rd., Ledgewood Rd, and Pleasant Hill within the last week in addition to a report of a dog missing.
PHOTO GALLERY: Big Cats in Maine
Bobcat and fisher cat at Maine Audubon
Sergeant Frank Soule urged people not to search for the large cat, which Soule believes is likely a bobcat. Soule said that they have not yet confirmed if the missing dog report and the sightings of the big cat are related. He said the dog's owners are not the same people who claimed they saw the cat.
Soule said people should not search for the cat and should not harm the cat in any way.
He said he contact the Maine Warden Service yesterday and is waiting to hear back. He said he plans to "keep them in the loop."
Soule also said it is rare to see what they believe is bobcat in a suburb such as Falmouth.
Doug Hitchcox, the staff naturalist at Maine Audubon, agreed that sighting a bobcat in this area is uncommon.
"This is a pretty rare occurrence," said Hitchcox. "It's probably a fairly desperate individual. We're getting late in the winter, natural food is probably hard to come by, but that will change."
Hitchcox also believed that the animal people report seeing is not a lynx.
"There's really nothing down here to support them," Hitchcox said of the environment and natural prey for lynx. "It's definitely a surprise to have a bobcat around. A huge factor in that is that they're just such secretive creatures."
While police still have not reported independently confirming any bobcat sightings, Sgt. Soule urged people to not search for the animal or hurt the animal.
They advise people to bring their pets in well before sunset -- wildlife experts say bobcats are most active at dusk and dawn.
Multiple people in the Falmouth area reported seeing a big cat.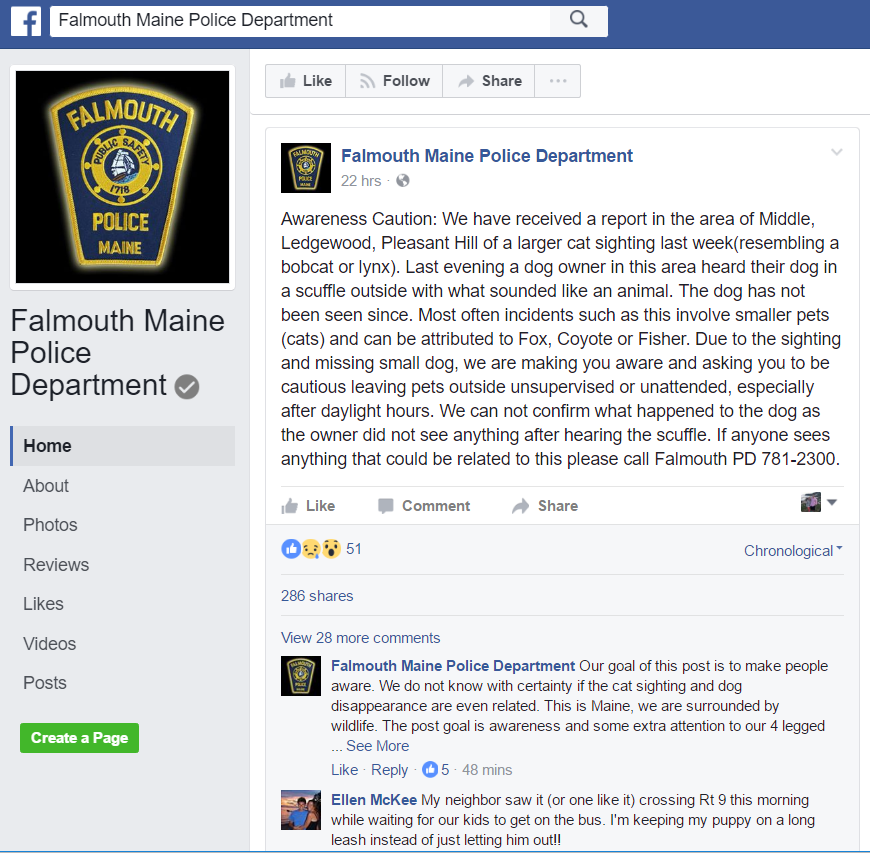 People in Jackman also reported seeing a big cat recently.