HARPSWELL, Maine (NEWS CENTER) -- A man accused of abducting a woman off the streets of Rockland is now in trouble with the Maine Marine Patrol, charged with stealing lobsters.
In September, 29-year-old Shane Hall of Portland was charged with kidnapping a young woman as she walked home late at night. On Tuesday, the Maine Marine Patrol said Hall would be facing additional charges, in connection with a month-long investigation of lobster theft.
Officials said Hall stole lobsters from Quahog Lobster on September 27th-- the very next day, he would be accused of grabbing a 22-year-old woman, choking her until she blacked out, and dragging her into the back of his car. A police officer noticed the car was parked strangely, and began to follow. Shane allegedly tried to elude police, but the young woman woke up and began to fight back. At one point, she told our media partners at the Village Soup, she grabbed the wheel. The car crashed, and police were able to rescue her.
Hall has an extensive criminal record, according to court documents; including aggravated assault, motor vehicle burglary, robbery, and carrying a concealed weapon.
Officials say Hall also stole from Quahog a few days before the alleged kidnapping. 34-year-old Troy J. Woodman of Warren was also arrested as a result of the investigation by Maine Marine Patrol. Officials say Woodman is suspected of stealing lobster multiple times during September and October.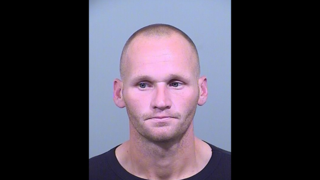 Combined, Hall and Woodman stole over $9,000 dollars worth of lobster, according to Maine Marine Patrol.
Officials say Hall could face an additional year in jail and thousands of dollars in fines in connection with these thefts. Woodman may serve up to five years in jail and a $5,000 fine, if convicted.