SAN JUAN, Puerto Rico (NEWS CENTER) — The airport in San Juan shut down before Beth and Peter Richardson could fly home.
Between nor'easters and enormous snowstorms, the couple has dealt with the worst Maine weather — but a hurricane? Well, this is a first.
They were on the 9th floor in a hotel on the beach in San Juan, normally the perfect spot for a vacation, but not for a hurricane.
Just before noon, the first bands of Hurricane Irma pounded the windows of the hotel where Mainer Beth Richardson is finding refuge.
"Yeah, we were a little scared because we've never been, you know, we're Mainers. We've never been through something like this. Give us a snowstorm, give us an ice storm we can manage. But hurricanes?"
Richardson spoke with me via skype as the eye of Hurricane Irma edged closer to San Juan, where hotels insulated and boarded up windows, and shared evacuation plans with their guests.
"If there are any breaches of any windows, if any windows or doors are blown in, he told us, he would evacuate the whole hotel – that was kind of the one cut off point that he was very clear about."
"He said that this building, he told us yesterday, you won't feel it sway. He said this is the way all the buildings are built, they're built to move a bit that's how they withstand high winds so, we'll see."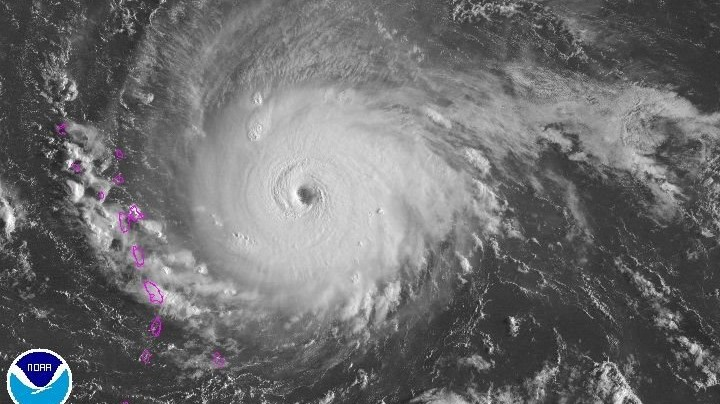 Hurricane Irma is proving to be a dangerous waiting game felt from Puerto Rico up to Maine, where Jerry Aymat spent the day trying to reach relatives in Florida and Puerto Rico. He grew up in the west coast town of Mayaguez and lived through several big hurricanes including Hurricane Georges.
"After that hurricane, we must have been without electricity or water for maybe like a month and that was good, that was the best case scenario."
He's most concerned about flooding. A call to his cousin in Puerto Rico gave Jerry a hint of Irma's early damage.
Over the phone, she explained, "We went out on a ride about 10 minutes ago and there were a lot of trees and stuff that had lost their branches, a lot of palm trees on the ground and stuff like that, and this is just the beginning, it's not hitting us yet."
By Thursday, at least for the islands, Irma's damage will be done. And, if all goes according to plan, the Richardson's who are expecting their first grandchild any day, will be making plans to return home.
"My only request of them, of my daughter-in-law, is to make sure that baby isn't born until I get back to the mainland."
Hurricane Irma reached Puerto Rico on Wednesday night and was hammering the island.
Beth Richardson posted on her Facebook page at 5:30 p.m. Wednesday that they have been evacuated to the FEMA-approved hotel parking garage for safety, where they would sit on pool chaise lounges, watch movies and eat a complimentary buffet dinner — a bit of comfort during a very uncomfortable, nerve-wracking Hurricane Irma.
We will be checking in with Beth and Peter, their daughter-in-law and Jerry Aymat's family in the days to come.