PORTLAND, Maine (NEWS CENTER) - Thousands of Mainers went to the Monster Truck Show in Portland the weekend of April 21st.
Several who did tell NEWS CENTER they signed up for a raffle that has caused them some trouble.
It was a raffle to win a free vacation – but that vacation turned out to be anything but free.
They say that quick decision almost had major consequences.
"I felt very violate," explained Bath resident Samantha Moore – the woman who alerted us to this story.
But Jason White – the owner of the company holding the raffle – claims his company is legitimate.
Samantha Moore took her family to the Traxxas Monster Truck Show in Portland on April 22.
Moore described the scene when she walked into the Cross Insurance Arena. "Just a bunch of people handing out little green pieces of paper left and right, saying, 'Put your name and number down to enter to win a drawing.'"
That company - which identified itself as Paradise Travel - had requested a vendor spot at the show with this email.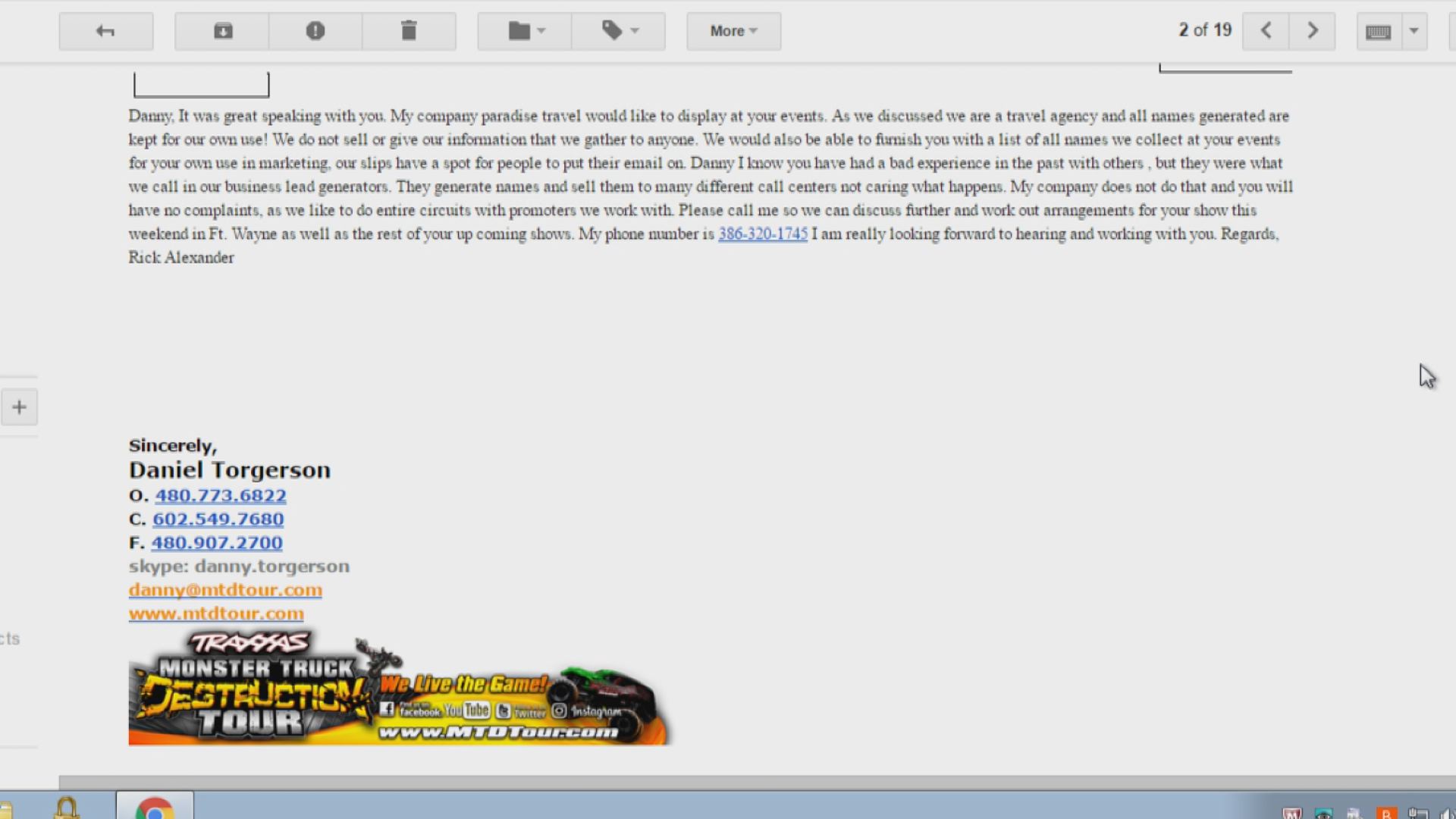 A few days later, Samantha got a call. She says the man on the other end told her she had won the drawing.
She's not the only one. Eliza Lee of Gray also signed up at the show, and received a voicemail that said, "You signed up with us for the Orlando/Disney/Daytona Beach trip...well some good news, you guys got picked. Congratulations!"
When she received a similar phone call - Samantha was under the impression that she had won the free vacation.
The man on the phone said he needed her credit card number just for an ID to book the resort...so she gave it to him. "I was on the phone with him for actually about an hour," she said.
Moore says she was transferred to the manager: Jason White.
That's when she says her brother – who had been at the Monster Truck Show with her – came rushing through her front door. "[He] told me to hang up the phone," she said. "He had just gotten the same call. And right then and there, I knew I was in trouble.
Samantha recorded part of her phone conversation. After she had given her credit card information to the first man and was now on the phone with Jason White, he said, "You understand that it's not a winning or a lottery...it's an extremely highly discounted vacation package."
Samantha learned she would need to pay a registration fee of $498 - plus her own airfare.
Trade Show Travel Company – Jason White's company – would only cover the resort fee.
Samantha says she told White to cancel everything, and later hung up the phone.
"I had given them a lot of personal information," she said.
She immediately canceled her credit card...but says that minutes later, someone tried to charge it.
NEWS CENTER asked our media partners at WPTV in West Palm Beach, Florida, to contact Jason White, the president of Trade Show Travel Company. His office is at 2708 N Australian Ave., Suite 2, in West Palm Beach.
"We never charged [Samantha's] card," he told them on camera.
We've spoken numerous times with Jason White on the phone as well.
He even offered us a free vacation on three different occasions. "If yourself Kristina or any of your staff would like to take advantage of any of the locations or different resorts that we have, I would even book you free of charge," he said.
While looking into Trade Show Travel Company, we found complaints by the dozens, dating back to 2013.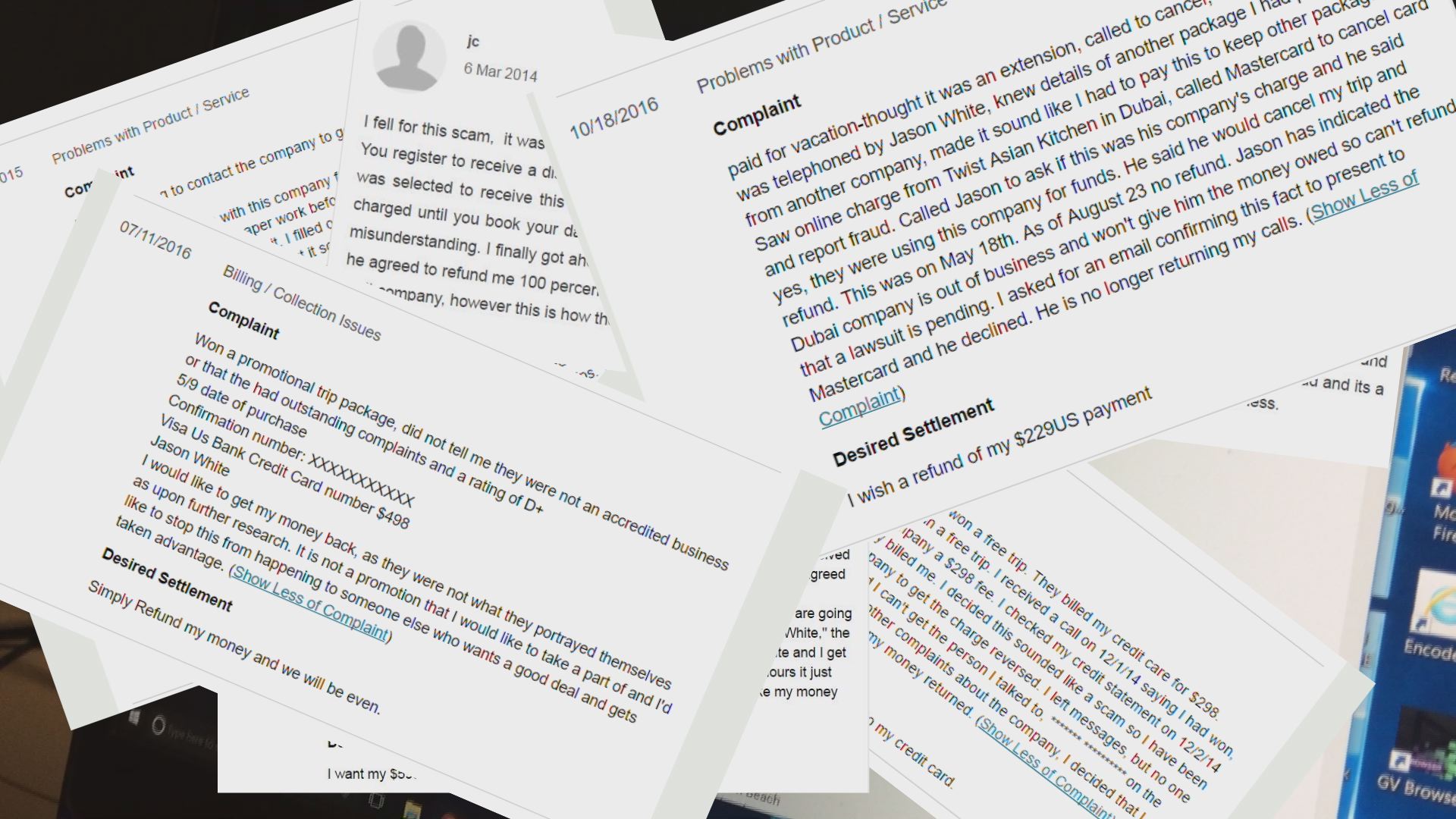 Some complaints are online, and some were officially filed to Florida Division of Consumer Services.
Multiple complaints named Jason White, and the $498 fee - but they listed various company names: The Reservation Desk, Dream Travel Vacations, Inc, Go Travel Forever and Trade Show Travel Company.
A WPTV reporter asked Jason if he has ever worked for other travel agencies, given the amount of complaints naming him. White responded, "No, really just this."
White did admit that he "shares resources" with Dream Travel Vacations, a company in Fort Lauderdale with an "F" rating by the Better Business Bureau.
When NEWS CENTER called that company, the receptionist told me that Jason White is actually one of their managers.
White denies any affiliation with other companies or names, despite the fact that some even have the exact same address.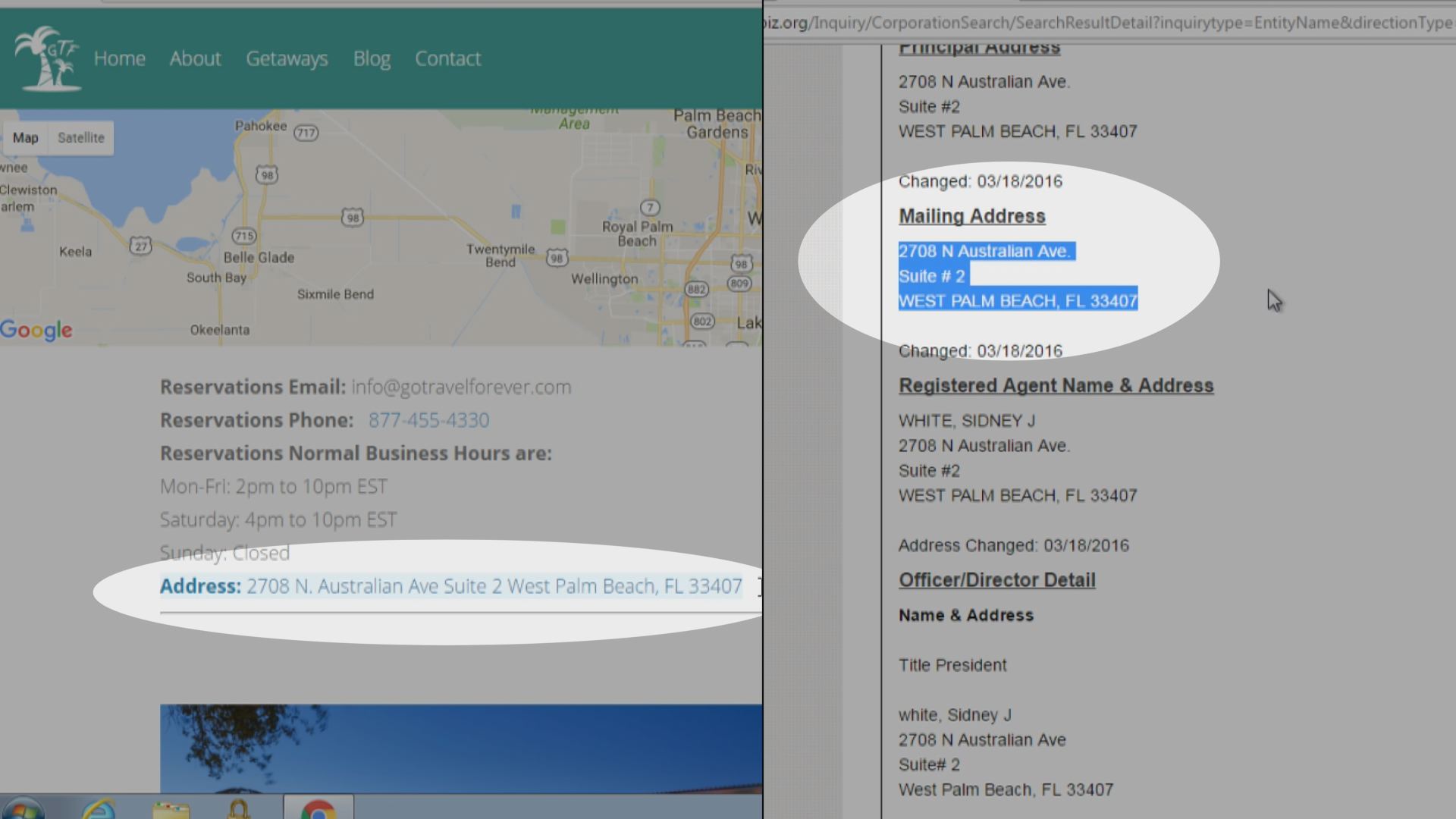 Jason also said that "Of course, if somebody wanted a refund, we would refund them immediately."
That's not true according to Florida resident Shaun Fitzgerald, a veteran who did book a vacation through Jason White.
He received a contract after paying the $498 registration fee.
He was surprised to learn he would have to sit through a timeshare presentation - but said he was still willing to do so for a cheap vacation.
Then, he says, Trade Show Travel Company began to charge his card.
"The resort was trying to upgrade us to a room we didn't request," said Fitzgerald.
Jason told him the resort required Shaun to get a bigger room because of fire code. Fitzgerald said it was going to cost him $360.
When Fitzgerald called the resort, he learned that there was never an issue with the fire code.
He canceled his vacation, and asked for a refund.
Jason stopped answering his calls and emails.
Fitzgerald's bank ultimately gave him the money back - but he never received a refund from Jason White.
"There needs to be some way to shut down these organizations and go after the people responsible," he said.
As for the Monster Truck Tour - the COO, Tony Madezerro, says Trade Show Travel Company will not be welcomed back for future shows.
"There has been a serious problem with this person, this company," he said,
We also found that the same Sidney White - a.k.a. Jason White - has a long criminal record.
He served time for felony assault of an elderly person and felony robbery.
Samantha Moore told us that she reported Jason White to the Maine Attorney General.
The Attorney General's office did not respond to multiple interview requests, and would not confirm whether or not it is investigating.