*UPDATE 4/11 – "The Old Man," as coined by an official at Avian Haven, was examined Tuesday by Dr. Mark Pokras, a recent retiree of Tufts Wildlife Clinic in Grafton, Massachusetts, and current resident of Scarborough. The rehab center felt fortunate to have him in Maine and were grateful for his house call.
Dr. Pokras told those at Avian Haven he is "cautiously optimistic" about the viability of the wing tip. Vets expect at least two weeks before a more definitive prognosis can be made.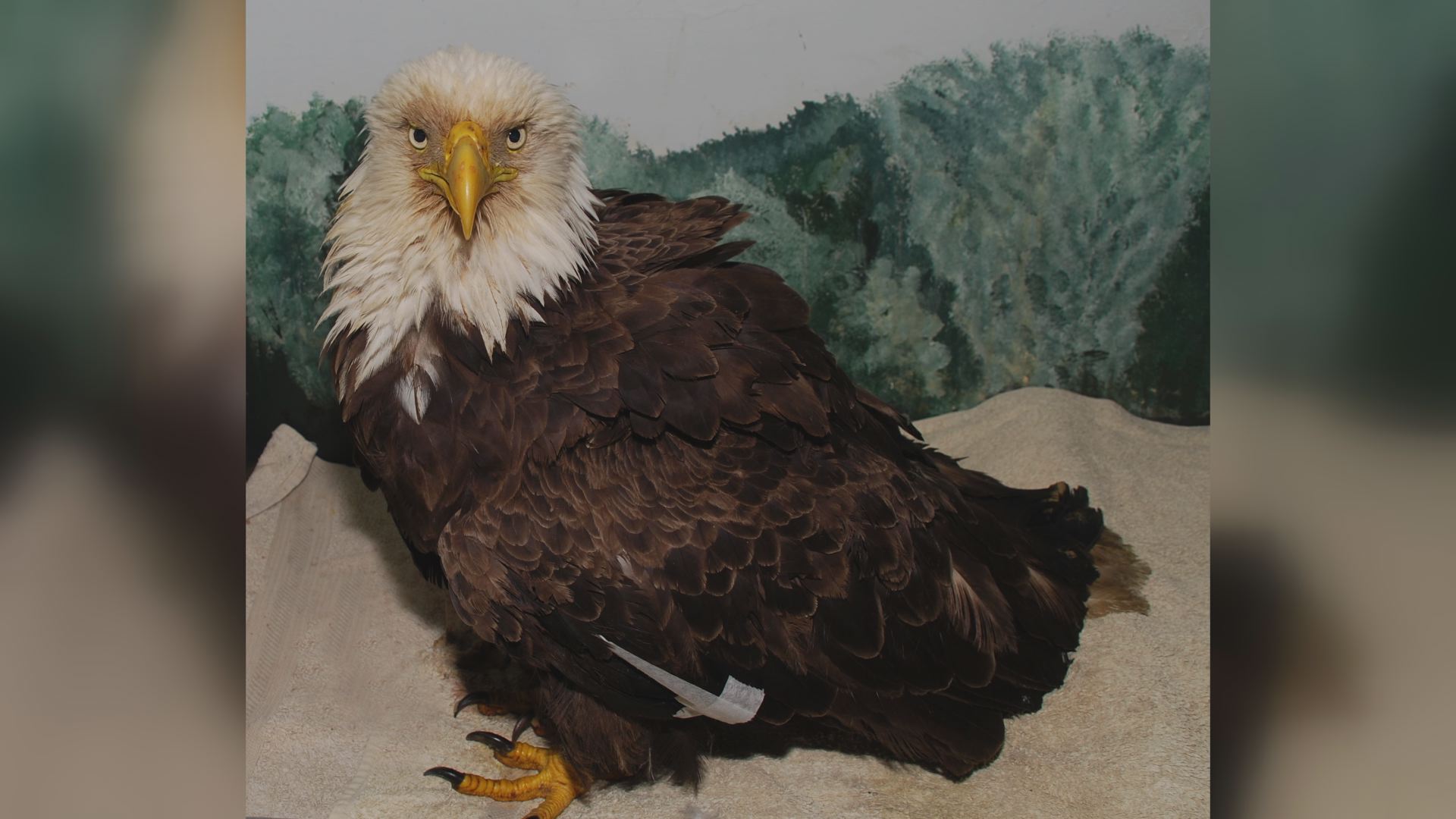 *UPDATE 4/11 – An official at Avian Haven in Freedom on Tuesday morning said the eagle suffered "some fairly serious lacerations along [its] left wing," and their main concern right now is the viability of the wing tip.
The bird rehab center further confirmed the warden service's inclination that the cuts found were consistent with bites received in combat with another eagle.
Also discovered by veterinarians: an elevated blood lead level.
The official said that although the blood lead level was not sufficiently high to be directly or immediately life threatening, it was "certainly sufficient to have impaired coordination and stamina, and thereby likely diminished the bird's ability to defend himself in a fight."
"Lead poisoning remains a serious problem for Maine's eagles," the official said. "This bird was the third adult male [Avian Haven] admitted in two days, April 6 and 7 — all had wounds consistent with eagle combat, and all had elevated blood levels."
Eagles are exposed to lead when they eat game remains contaminated with fragments of spent ammunition, the rehab center noted. Unlike loons, eagles do not get those exposures from eating fish containing lead fishing gear.
TRESCOTT TWP, Maine (NEWS CENTER) — A 34-year-old bald eagle was rescued Friday by a Maine game warden. It is the oldest ever documented in the state's history.
The bird was banded in June of 1983 by the state Department of Inland Fisheries & Wildlife's former eagle biologist Charlie Todd who, for the past five years, has led the department's endangered species program.
The warden service got a call Friday reporting an injured bald eagle in the township of Trescott, located within 10 miles of Lubec in Downeast Maine. Warden Joe McBrine responded along with U.S. Fish & Wildlife Service biologist Amanda Hardaswick.
Local lobsterman Wayne Jones assisted McBrine in locating the bird along the shore at Hayrock Harbor in Trescott, and McBrine was able to walk right up to it and capture it without any struggle.
PHOTOS: Oldest eagle ever documented in Maine
USFWS Officer Amanda Hardaswick assisted in rescuing and transporting the eagle. The eagle is now at Avian Haven in Freedom recovering from injury.
USFWS Officer Amanda Hardaswick assisted in rescuing and transporting the eagle. The eagle is now at Avian Haven in Freedom recovering from injury.
PHOTOS: Oldest eagle ever documented in Maine
A band on its leg was at first difficult to read, but while preparing to transport the eagle McBrine cleaned it off and submitted the tag number to an online database.
The information he got back for 629-12255 was incredible: the bald eagle was banded as a newly hatched eaglet on June 21, 1983, by Todd and Barney Thompson on Grand Manan Island in New Brunswick, Canada. It was sighted on record only one other time — Edmunds Township in 1984 at less than a year old.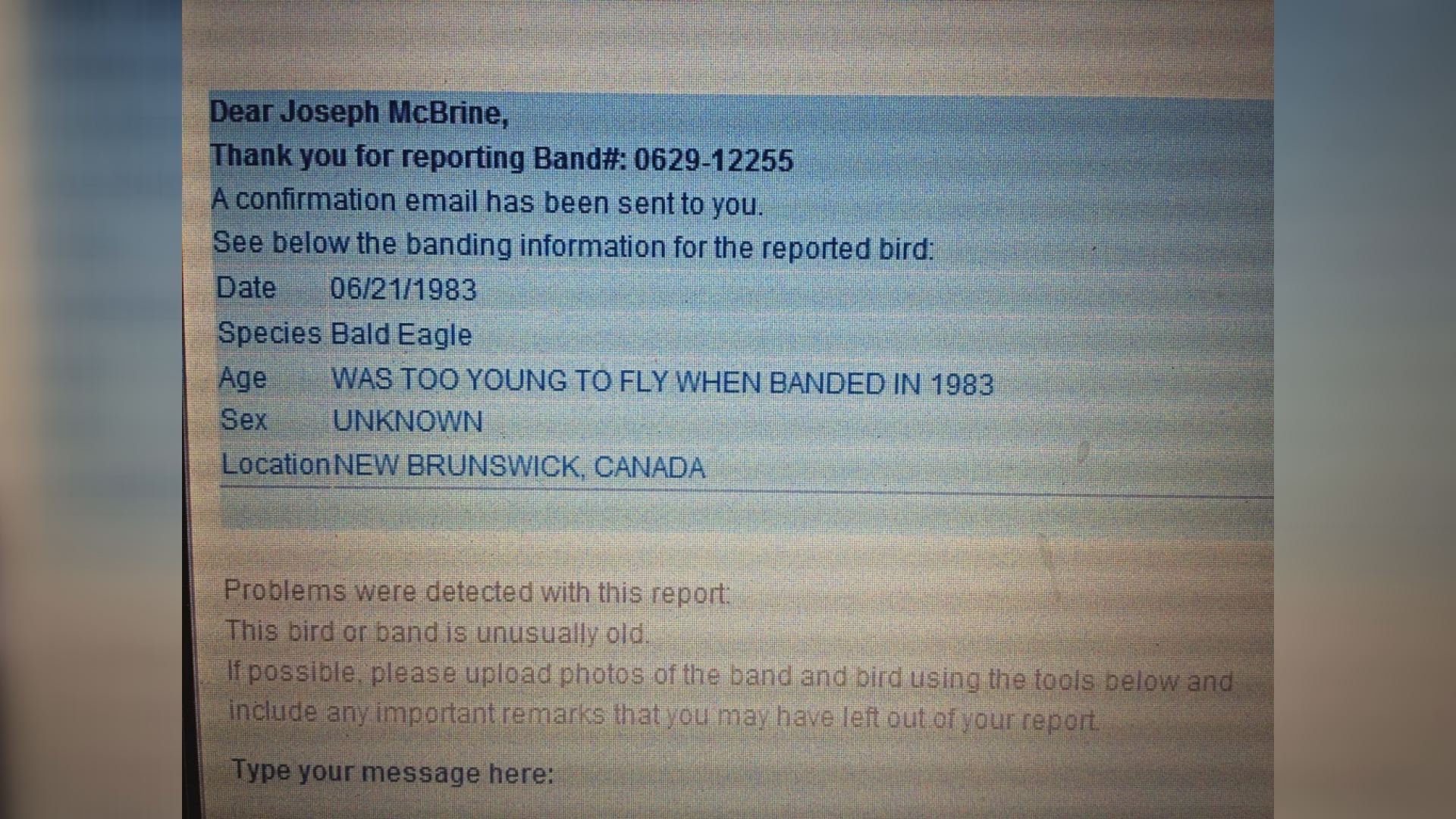 Wardens transported the eagle to Cherryfield and from there a volunteer driver took it the rest of the way to Avian Haven in Freedom for care under Marc Payne and Diane Wing. As of Monday, wardens said the eagle was doing well despite an injury to one of its wings, consistent with a fight with another eagle.
Avian Haven told wardens they plan to continue to rehabilitate the bird in hopes that they will soon be able to release it back into the wild.
Eagles in the wild generally only live 15-20 years, the department says. This one is a unique case.
The department notes that in the 1970s, bald eagles were endangered and there were less than 30 nesting pairs in the state. Some 40 years later, the specifies is no longer on that list and it is estimated there are over 900 pairs throughout Maine.
The resurgence is something the department considers one if it's most remarkable conservation success stories.