JAY, Maine (NEWS CENTER) - State Police are gathering evidence as they try to figure out what led to the state's latest murder.
Investigators say James Sweeney killed his girlfriend Wendy Douglass at her home in Jay on Tuesday.
For those who knew Wendy Douglass, Wednesday felt like one more day with no more answers.
They say there was never any warning sign that Wendy Douglass was in trouble.
Douglass was a well-known face in town. She worked in the produce section at the "Food City" grocery store just around the corner from her house.
She also was a regular churchgoer, at the Readfield United Methodist Church.
"She was smiling all the time," said Myung Park, the congregation's pastor for the last year. "A very kind and loving person."
Park says most weeks – the church is where you could find Wendy Douglass and her boyfriend, James Sweeney.
"They were involved in many many things in church," said Park. "Especially Wendy, who was a great cook. She prepared a lot of food that people can eat. She always spread out a lot of food that we could eat after a church worship service."
Sweeney is now charged with Douglass' murder.
State Police were on scene at her Jewell Street home on Wednesday for the second day gathering evidence.
Sweeney turned himself in on Tuesday for Douglass' murder. He is deaf. Police said his being deaf wasn't too much of a challenge, and that they mostly wrote to communicate. However, they did post this on Facebook for any future situations: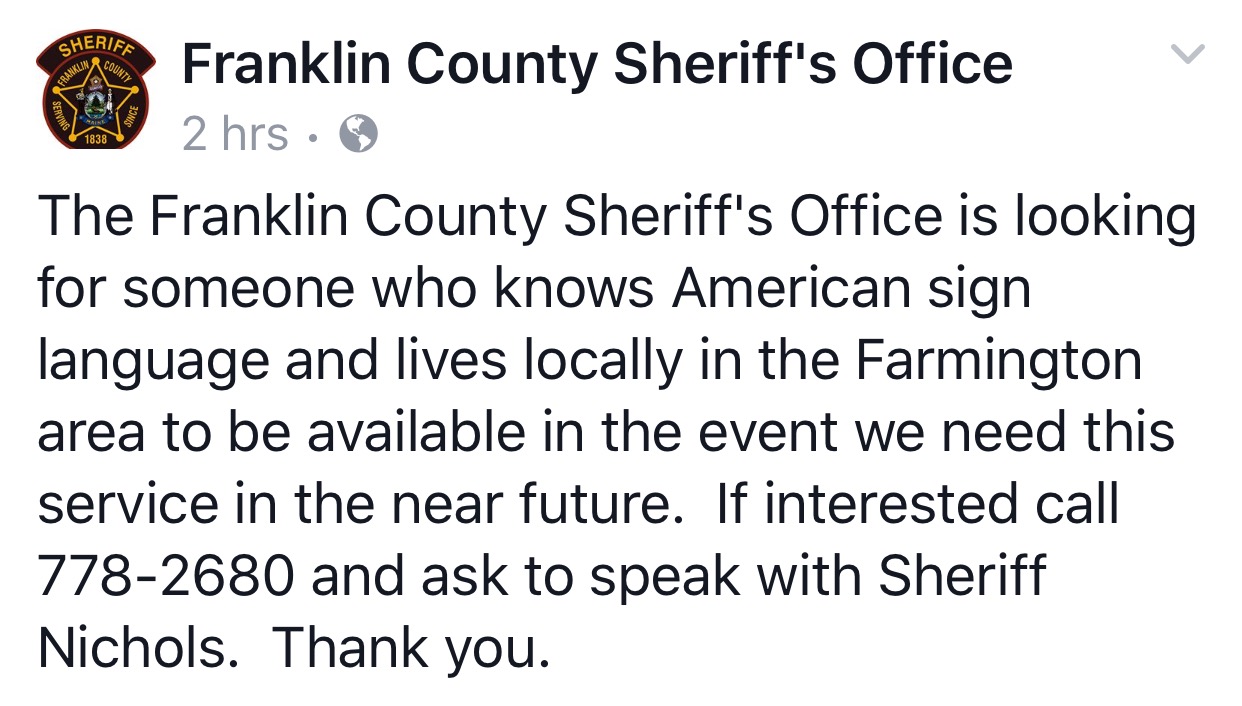 Park says Sweeney always seemed like a nice man. He was always with Douglass, and he was even in the process of signing up for one-on-one bible study sessions.
That's why the news of Wendy Douglass' murder is such a shock.
"It is really hard to believe because I did not see any clue of violence and anger from him," said Park.
About half of all homicides in Maine are domestic violence related, according to a 2016 study by the Maine Domestic Abuse Homicide Review Panel.
This is higher than the national average.
Now Douglass' church has been turned into a memorial for her, staying open extra days and hours for people to mourn.
Friends are writing notes and lighting candles - remembering the woman they never expected to lose so quickly.
Police have not released the cause of the death yet, but say Douglass' autopsy was being completed Wednesday.
James Sweeney will make his first court appearance Thursday.