QUESTION 1: York County casino measure defeated
QUESTION 2: Expansion of Medicaid Eligibility approved
QUESTION 3: Transportation bond passes with over 70%
QUESTION 4: Increase in unfunded pension liability pay off approved
PORTLAND: Voters reject rent control, neighborhood zoning approval
(NEWS CENTER) — Mainers will head to the polls Tuesday to vote on four referendum issues along with several local questions.
Be Prepared
Polls are open in most cities and towns starting between 7 a.m. and 10:00 a.m. with closing times around 8 p.m.
To find out your nearest polling location, click here and enter your address.
If you haven't registered to vote yet, fear not - you can do so both before and on Election Day at your town office or city hall. All you need is a valid ID, and proof of your address.
Secretary of State Matthew Dunlap says the state is expecting a low to moderate turnout with only 20 to 30 percent of voting age Mainers actually hitting the polls.
"Election Day is the ultimate in democracy, when we make the decisions about how our State will be governed," said Dunlap.
"We have important issues on the ballot this year that could have long-lasting impacts on our State, so it's important for every citizen to participate."
Experts say voters should familiarize themselves with referendum questions before casting their ballots.
QUESTION 1 | Citizen's Initiative:
"An Act To Allow Slot Machines of a Casino in York County"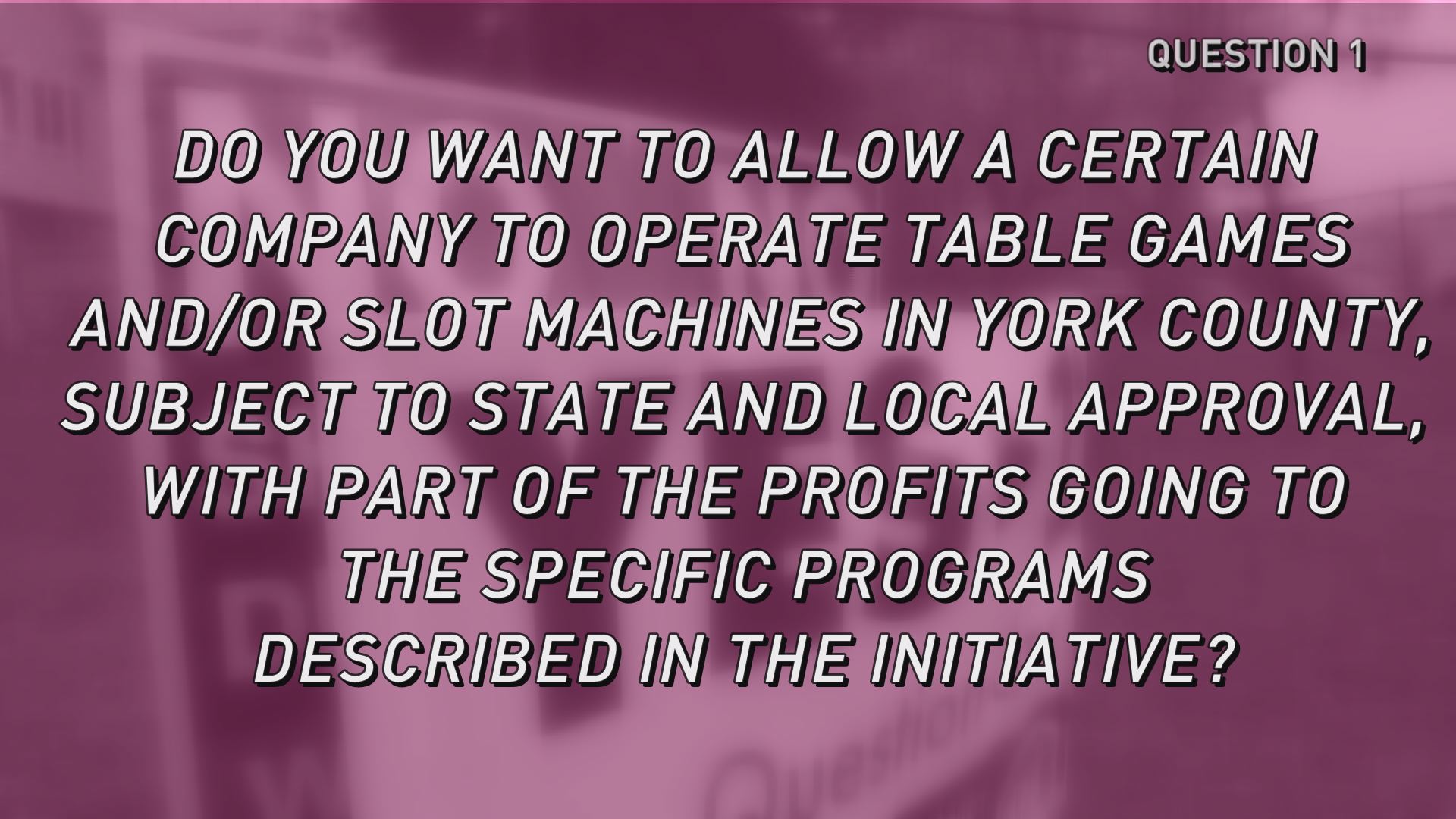 Do you want to allow a certain company to operate table games and/or slot machines in York County, subject to state and local approval, with part of the profits going to the specific programs described in the initiative?
This question asks if voters want to give a specific company - namely, Capital Sevel LLC, owned by Shawn Scott - the right to build a casino in York County.
Supporters say the casino - which would be Maine's 3rd - will bring new jobs, economic growth, and tax relief to York County.
Opponents say the proposal and related ads are misleading, and fear that Shawn Scott will build the casino and sell it, like he did in Bangor in 2003.
RELATED STORY: Interview with casino developer Shawn Scott
RELATED STORY: Opponents of a York County casino say ads are not clear
QUESTION 2 | Citizen's Initiative:
"An Act To Enhance Access to Affordable Health Care"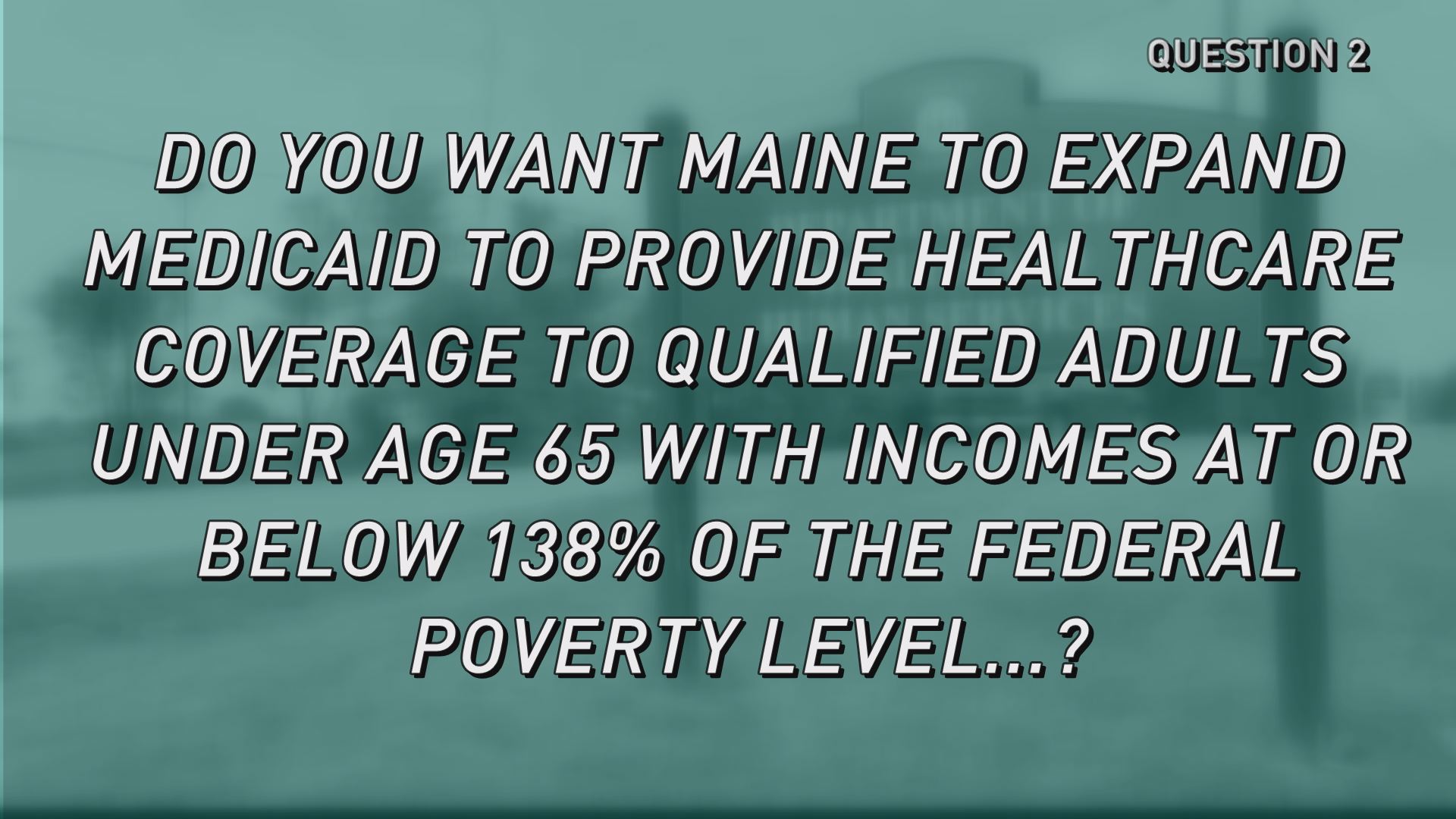 Do you want Maine to expand Medicaid to provide healthcare coverage for qualified adults under age 65 with incomes at or below 138% of the federal poverty level, which in 2017 means $16,643 for a single person and $22,412 for a family of two?
If Question 2 is passed, DHHS would have to expand Medicaid eligibility to include adults under 65 with incomes at or below 138% of the federal poverty level.
Supporters say this measure would provide 70,000 more Mainers with health insurance, preserve Maine's community hospitals, and help with Maine's drug crisis.
Opponents, including Governor Paul LePage, say Medicaid expansion hasn't worked in the past, and say this expansion will be too expensive for taxpayers.
RELATED STORY: Medicaid expansion debate about health and money
QUESTION 3 | Bond Issue:
"An Act To Authorize a General Fund Bond Issue To Improve Highways, Bridges and Multimodal Facilities and Upgrade Municipal Culverts"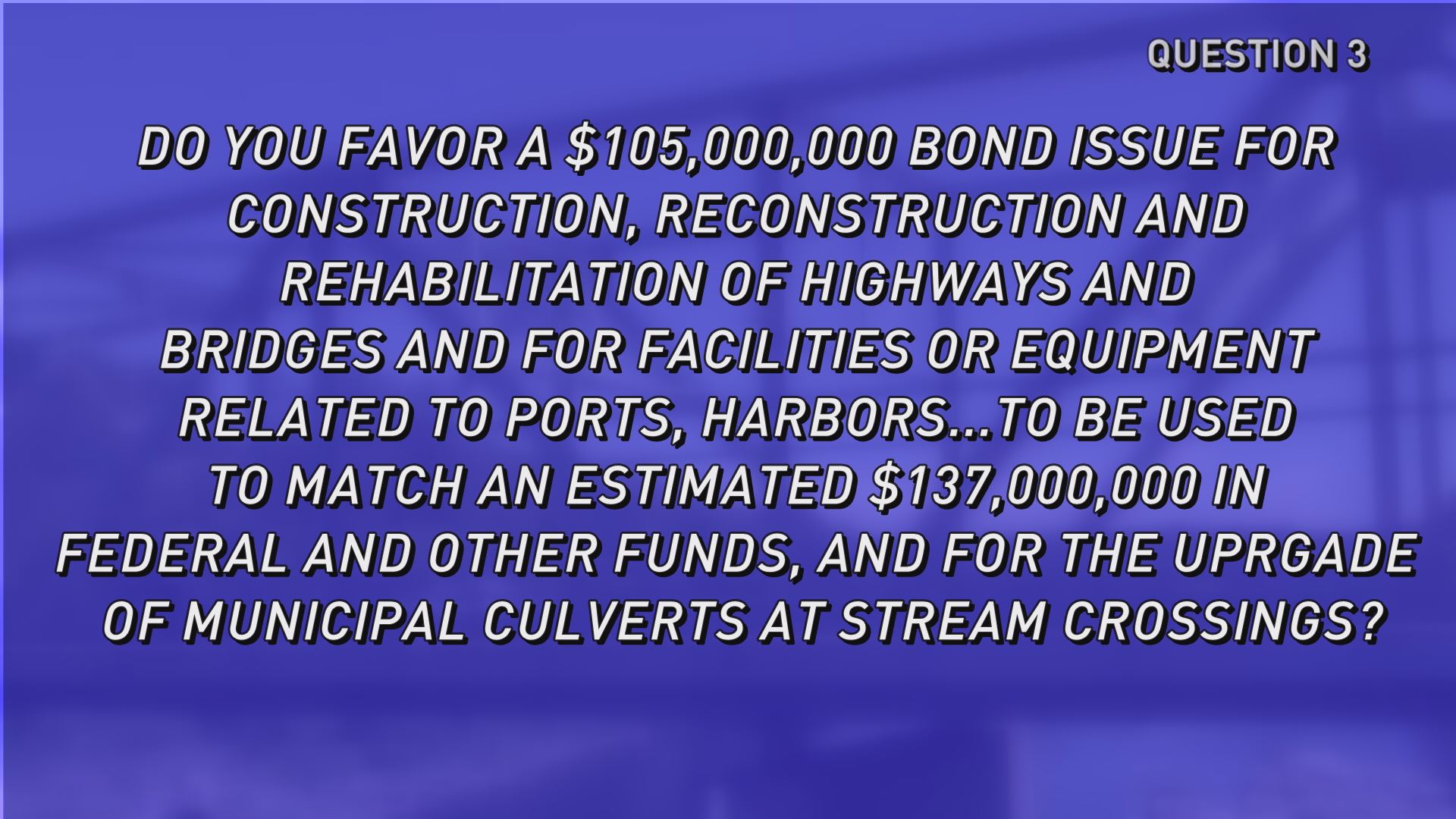 Do you favor a $105,000,000 bond issue for construction, reconstruction and rehabilitation of highways and bridges and for facilities or equipment related to ports, harbors, marine transportation, freight and passenger railroads, aviation, transit and bicycle and pedestrian trails, to be used to match an estimated $137,000,000 in federal and other funds, and for the upgrade of municipal culverts at stream crossings?
This bond would fund Maine DOT's maintenance of infrastructure across the state. Several state newspapers have come out in support of the referendum, but it has no organized opposition.
QUESTION 4 | Constitutional Amendment
"RESOLUTION, Proposing an Amendment to the Constitutions of Maine To Reduce Volatility in State Pension Funding Requirements Caused by the Financial Markets"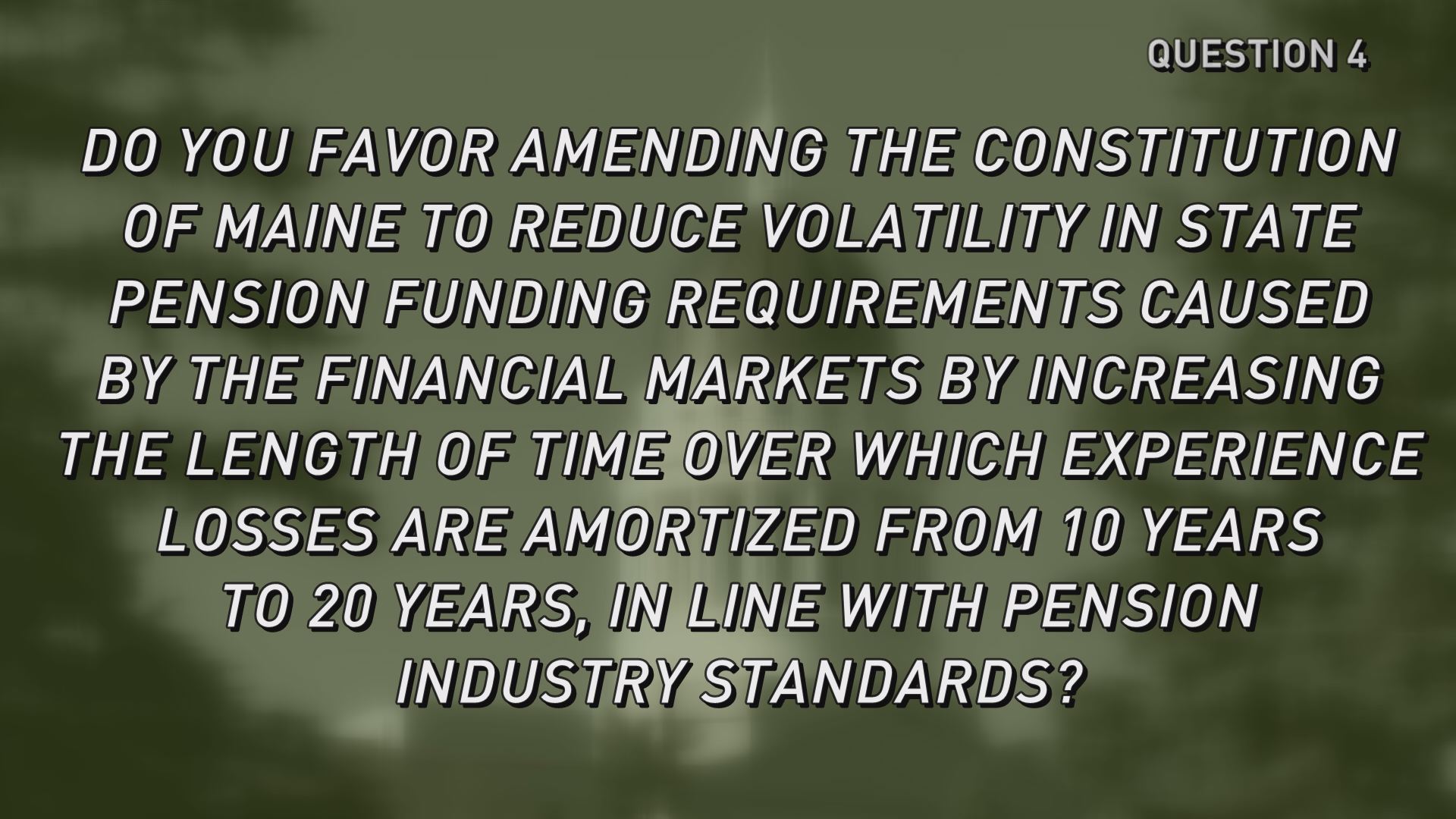 Do you favor amending the Constitution of Maine to reduce volatility in state pension funding requirements caused by the financial markets by increasing the length of time over which experience losses are amortized from 10 years to 20 years, in line with pension industry standards?
The wording of this question is undoubtedly confusing. It's about how the state retirement system manages a multi-billion dollar fund for retirement payments to more than 70,000 current and retired employees. Here's how it works: When the value of this fund dips, the state pays more. When it increases, the state pays less. This amendment would give the state 20 years - instead of the current 10 - to pay off any losses.
Several legislators have come out in support of this constitutional amendment. There is no organized opposition.
RELATED STORY: What is Question 4?
State of Maine Citizens Guide 2017 below:
Sec. of State Matthew Dunlap will be visiting polls Tuesday at the following times and locations:
• 7:30 a.m.: Old Town, Knights of Columbus Hall, 5 Gilman Falls Ave.
• 9:45-10 a.m.: Monmouth, Cumston Hall, 796 Main St.
• 10:15-10:30 a.m.: Sabattus, Town Office, 190 Middle Road
• 11:30 a.m.- 12 noon.: Portland, Merrill Auditorium Rehearsal Hall, 20 Myrtle St.
• 12:45 p.m.-1 p.m..: Lewiston, Memorial Armory, 65 Central Ave.
• 3 p.m.: Augusta, Civic Center, 76 Community Drive
• 5:30 p.m.: Bangor, Cross Insurance Center, 515 Main St.
LOCAL ELECTIONS: Popular Issues
There are other highly-discussed referendum questions in some city elections in the state. NEWS CENTER looked at Maine's three biggest cities.
BANGOR
We'll start with Bangor - since the answer is fairly simple. There are NO referendum questions. That's right, Bangor voters, you only have to worry about your city council and school committee votes this year.
PORTLAND
► WATCH: Portland rent control goes up for vote Tuesday
Question 1: A controversial "rent control" proposal is catching a lot of attention.
If passed, Portland question 1 would set limitations on rent increases in the city, among other things.
Supporters say this would help with Portland's affordable housing crisis, and support the renters who make up 60 percent of the city.
Opponents say rent control will discourage the development of affordable housing, make it nearly impossible to remove dangerous tenants, and will favor high-income earners.
RELATED STORY: Group opposes rent control in Portland
RELATED STORY: Stabilizing rent: will it help tenants, or make matters worse?
LEWISTON/AUBURN
► WATCH: L/A merger goes up for vote Tuesday
This is the proposal that's got everyone in central Maine talking - the Lewiston/Auburn merger.
If passed, Lewiston and Auburn would merge to become Maine's largest city. The merger would happen by 2020.
Supporters say a merger would make L/A a powerful force in the state, would give the cities one economic vision, and eliminate competition.
Opponents say the merger would destroy history, cost too much money, and not solve any problems.
RELATED STORY: What would a merger mean for schools?
RELATED STORY: Political push gearing up on merger
RELATED STORY: LA Merger, both sides weigh in