Sometimes in life, it's all about compromise.
You should see the model difference we're working with for this storm! Actually, here, I'll show you.
Here's the mighty Euro. You've heard us mention it before. It basically nails us. 19" in Portland, 13" in Bangor. Most of us with over a foot.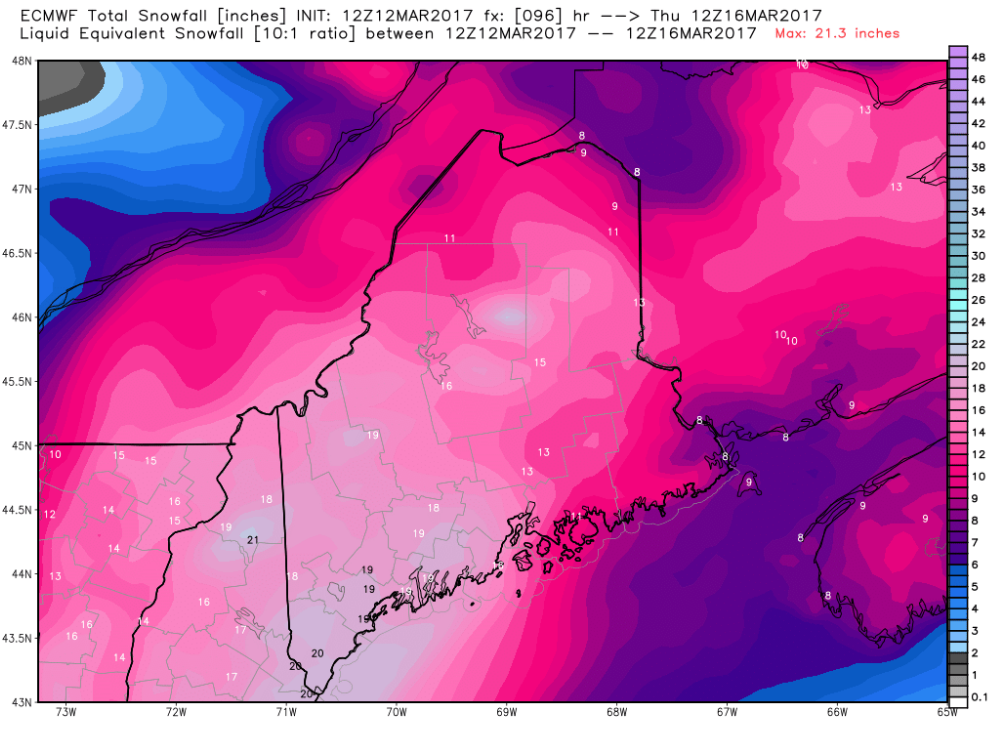 And here's the GFS (American model). It scoots way to the east and only brushes the coast. Still hits Bangor with 11", but Portland is down to 8" according to it.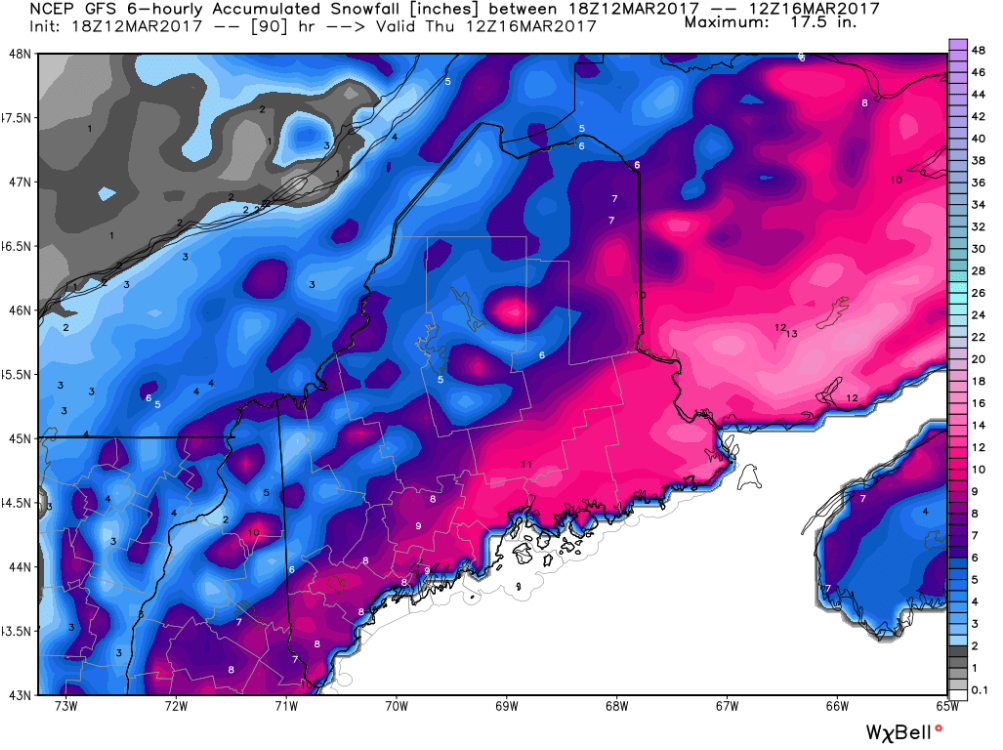 So which one do you pick? Good question, right? That's where a good amount of experience and a small amount of compromising comes in.
I'm siding with the Euro still based on performance history, a.k.a. it usually does ok for itself. But the GFS still concerns me, because I've seen it nail some before in my Bangor years. There are other models too, some of them are barely ok and some are just awful, so basically looking at these two.
The Euro develops a 975 mb Low and puts it justttt off the coast in the Gulf of Maine. The GFS keeps that low around 986 mb (not as strong, but still pretty strong) and has it way out around the most southern point of Nova Scotia keeping the heaviest snow well off the coast of Maine.
So as far as amounts go, still a kind of tough call in my opinion. Good thing we still have at least 36 hours until start time! Here's a look at my current thinking.
One thing we can all agree on is timing.
Looks like storm gets started around 10-11am in Southern Maine and near noon or 1pm in Augusta/Lewiston.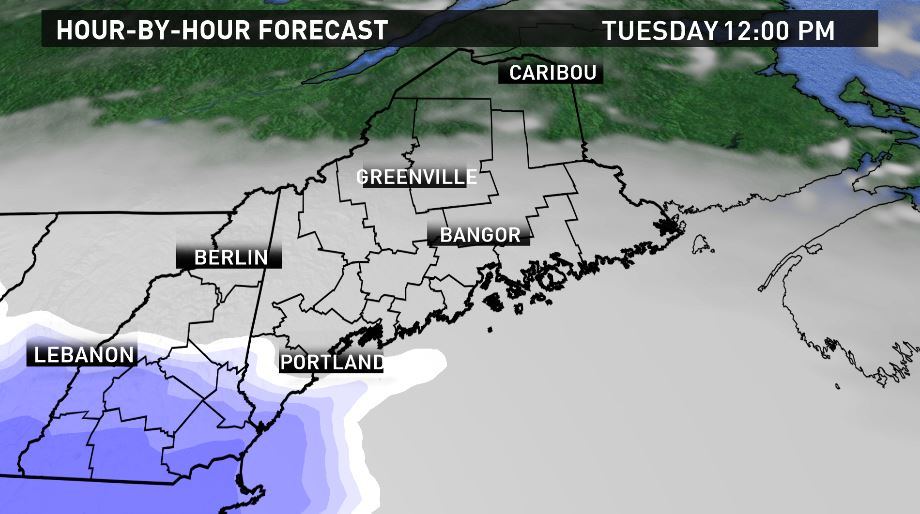 It'll be closer to 2-3pm in Bangor, and around suppertime in far Northern Maine. Looks likely that snow will quickly become heavy, especially closest to the coast. Will make the evening commute quite a beast for Bangor and points south.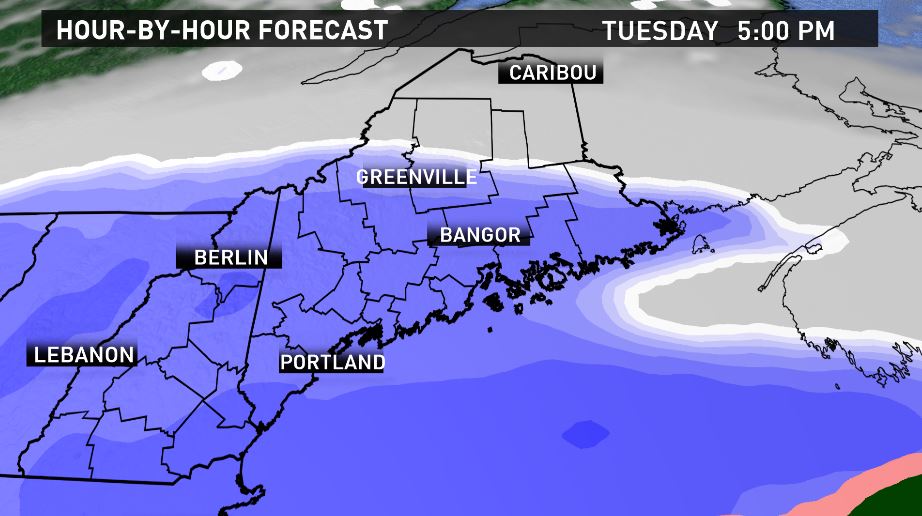 We're talking snowfall rates or 2-3" per hour possible. Some thundersnow even possible. Snow continues at a moderate to heavy pace overnight.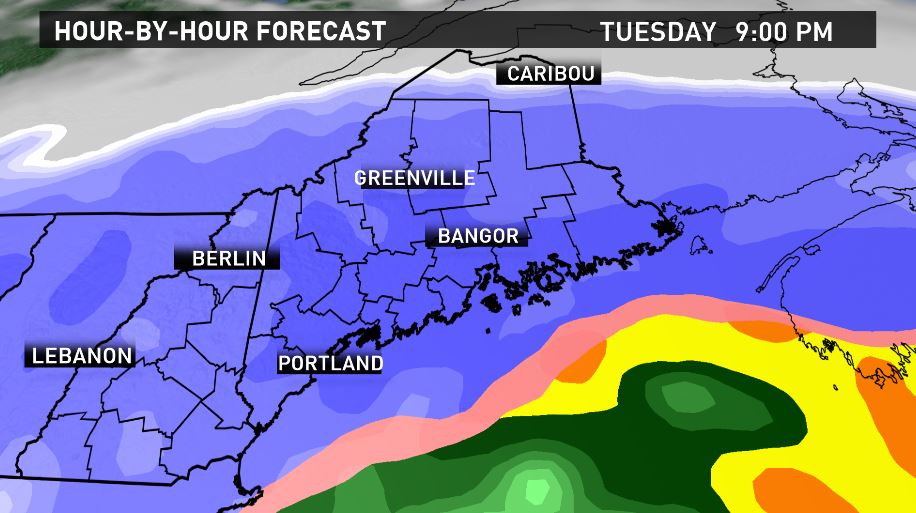 Snow looks to be more light to moderate by the Wednesday morning commute, but roads could still be a mess as it looks like quite a bit will fall overnight.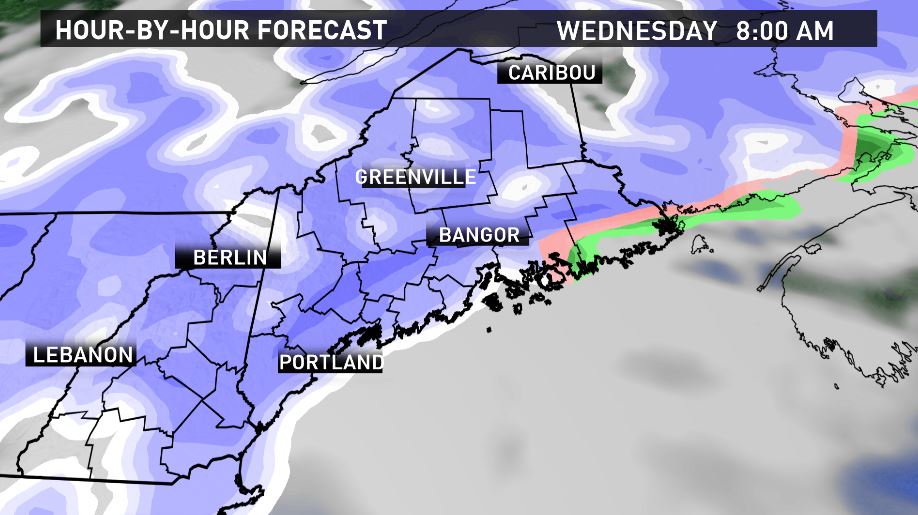 Light to moderate snow falls through much of the day Wednesday.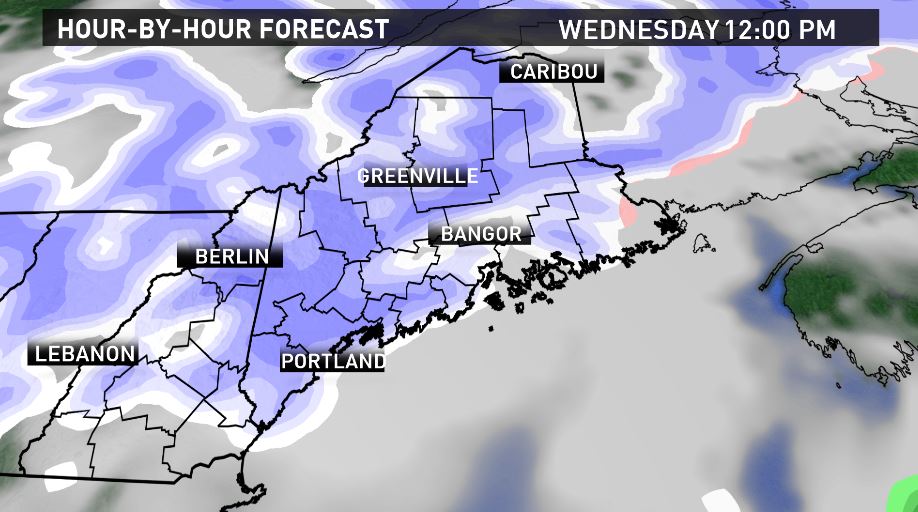 And the wind isn't going to help anything. Winds will get very gusty by Tuesday evening and will create visibility issues along with the heavy snow. Best advice: try to stay off the roads Tuesday night. Winds still rough early Wednesday morning too, lessening by Wednesday afternoon. A few snow showers still possible into early Thursday.
We'll all keep you updated. I can assure you that even the meteorologists that aren't necessarily working are likely nerding it out at home hitting refresh just waiting on that latest model run. We'll keep you informed but you might want to get some bread and milk in the meantime.
Stay safe!
Jess