HARRINGTON, Maine (NEWS CENTER) – As prescription drug prices continue to soar, so too does the cost of insulin.
The drug used to treat diabetes, a disease impacting more than 137,000 Mainers, has risen in cost by nearly 200 percent over the last eight years nationwide.
"For a young family, we didn't plan for that when he was diagnosed nobody has a savings account in case your kid is diagnosed with type one diabetes," Sarah Hurlbert said.
Hurlbert's eight-year-old son, Mark, was diagnosed with type 1 when he was just four.
Fortunately, their family has private health insurance. With the rising cost of insulin and supplies, Hurlbert said there is no easy answer.
"They look at the insulin companies when they look at the price of insulin so yes it's expensive but they're providing the money for the research," Hurlbert said.
From the test strips, pump supplies and even the special adhesive, Hurlbert admits it is costly.
With improvements in technology, they even have a special monitor that uses an iPhone app. That way Hurlbert can always track her son's blood glucose levels no matter where he is.
"It vibrates on my wrist when he goes out of range," Hurlbert said as she adjusted the Apple Watch on her wrist.
Since her son's diagnoses the family has become passionate about fundraising and research to find a cure for the disease and ensure that those who are not so fortunate have the support they need.
Mark even joined kids from across the country to advocate for legislation in Washington, D.C.
"I went to speak to Senator Collins, Senator King and Representative Poliquin," Mark said as he shared photos in a scrapbook the family made for the politicians to tell Mark's story.
He even got his photo taken with Senator Susan Collins.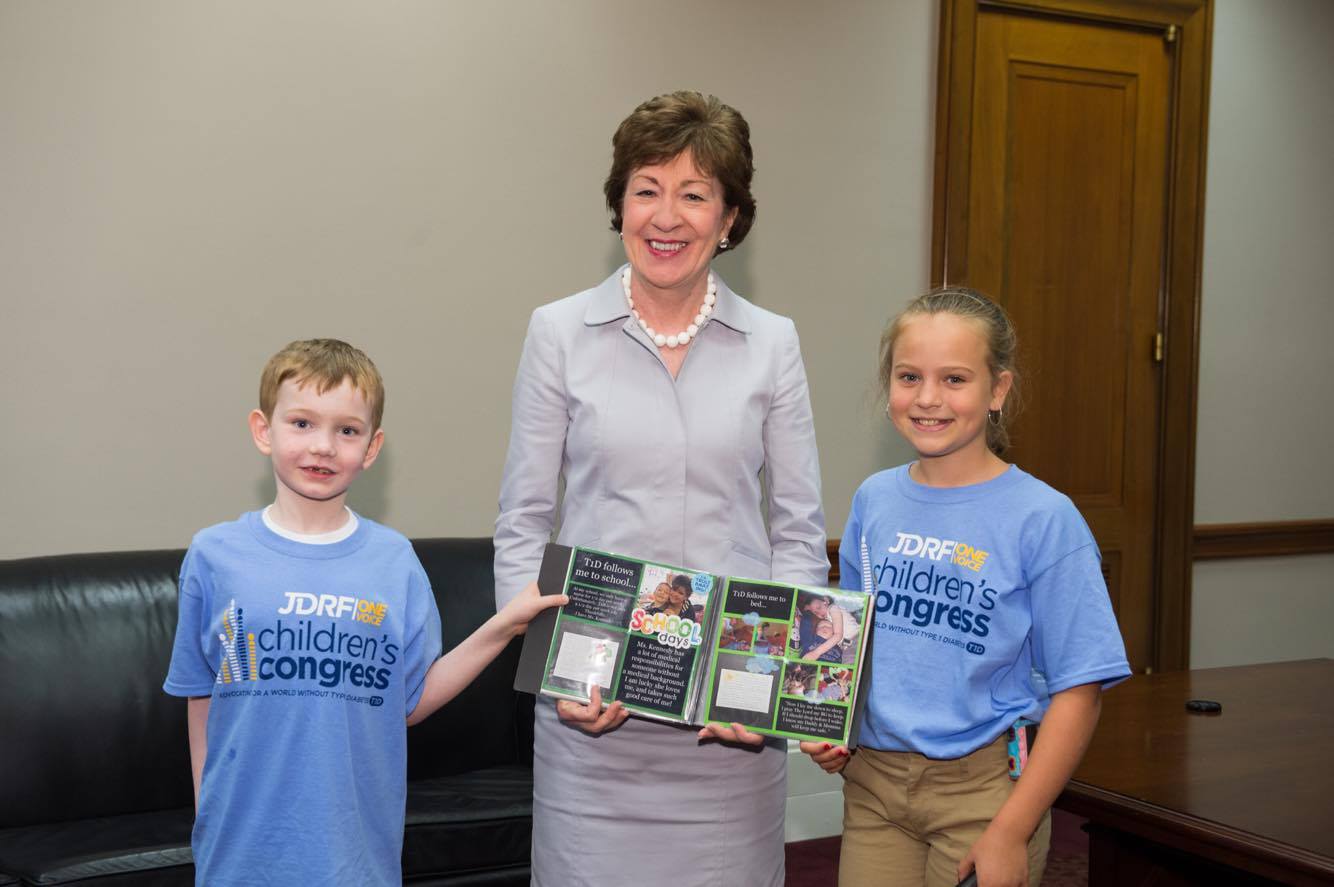 But back at his home in Harrington, Mark just enjoys being a kid and spending time with his best friend and little brother Maddix.
"Probably the biggest guilt as a type 1 parent is that type 1's going to leave my house one day," Hurlbert said.
"When I grow up I want to be president," Mark said. "I will call it United States of A-cure-ica."
His parents say while type 1 may be something he has to live with for the rest of his life, they will not let it stop him.
"We've never told him that he can't do anything…It's not an excuse. It's not limiting," Hurlbert said.
November is also Diabetes Awareness Month. The Hurlbert family has actively fundraised for JDRF since Mark was diagnosed and also is a part of the Maine-based support organization P-PODS.