MADBURY, New Hampshire, (NEWS CENTER) -- A woman is dead following a serious accident involving a freight train and a car in Madbury, N.H. Tuesday.
NH State Police say 64-year-old Jacquelyn Rollins, of Dover, New Hampshire was struck directly on the driver's side by a passing freight train.
The unit #2 freight train was operated by 34-year-old Peter Glidden of Carmel, Maine. Police say Glidden was traveling north on Knox Marsh Rd. at approximately 2:30 a.m when he struck Rollins's car.
Rollins was taken to Wentworth Douglas Hospital, where she was pronounced dead upon arrival. There were no other injuries reported.
This crash remains under investigation by the NH State Police- Troop A Barracks. Anyone with further information related to this crash is asked to contact Trooper Thomas Bednar at 603-223-8490 or by email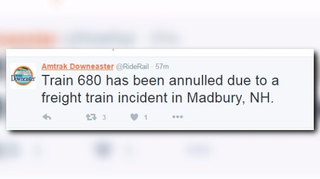 This crash has also impacted Amtrak Downeaster trains.