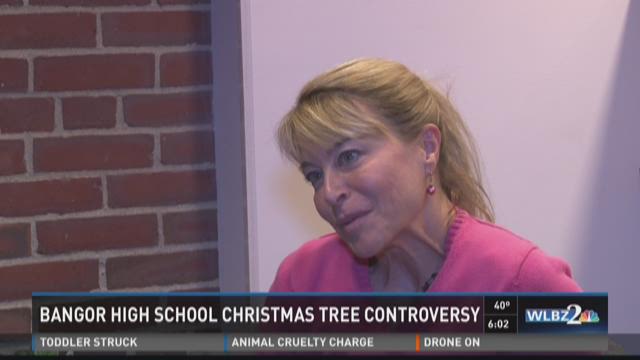 BANGOR, Maine 
(NEWS CENTER) -- A Christmas tree is causing controversy at Bangor High School. A math teacher has been decorating her classroom for the holidays for 30 years. On Friday, Catherine Gordon said the principal told her to take down the small tree inside her classroom.
Gordon said she was devastated that she had to remove the tree because it cheered her up during the school day. Last Wednesday, Gordon put up a small, pink tree in her classroom. The tree did not have any religious symbols on it, just pink Hello Kitties.
On Friday, she received an e-mail from the principal, telling her the tree was inappropriate. Gordon then took to Facebook to express her frustrations, saying "I feel that this is definitely a turning point in our society - when everything offends everyone all the time - it just sucks the joy out of everything."
In her 30 years of decorating, Gordon said no one has complained about the tree before, and she never meant to offend anyone by it.
"I just think it's because of the culture and our society now, that we are so afraid that it might offend somebody, that we have become so conscious of that, that in our wanting to not offend, we literally are being restrictive on everything now. It's like nothing is deemed appropriate," said Gordon.
The Bangor School Superintendent sent out a statement, which reads in part: "In alignment with national and state standards, the Bangor School Department educates students about culture, traditions, and holidays through curriculum ties in English language arts, music, art, social studies, and world languages. Our focus is educating students to become global citizens with the necessary 21st century skills for college and career readiness for their future success. Maintaining consistency with this approach has not been an issue for the Bangor School Department, as faculty and staff are committed to what is in the best interest of students and working towards out mission of academic excellence for all."