The billy goat is dead.
The Chicago Cubs finally got out from behind the (190)8 ball, winning their first World Series in 108 years and ending the longest championship drought by any major American sports team.
The Cubs — America's most lovable sad sacks, its glorious sporting schlemiels, its embodiment of the jinx — defeated the Indians 8-7 in an incredible 10-inning marathon that stretched into Thursday morning in Cleveland. And the Billy Goat Tavern needs a new gimmick.
Well-worn legend dictated that the Cubs would never win another World Series thanks to the Curse of the Billy Goat.
Full game recap: Cubs Defeat Indians 8-7 in 10 Innings
The curse began in 1945, when William "Billy Goat" Sianis — then the owner of the tavern, which is separately famous as the inspiration for the beloved "cheeburger, cheeburger, no Coke, Pepsi" skit on "Saturday Night Live" — bought two tickets to Game 4 of the Cubs' World Series game against the Detroit Tigers: one for himself, and one for Murphy, the tavern's billy goat mascot.
Many attempts were made over the decades to lift the curse, which Sianis, himself, rescinded before his death in 1970. And his nephew Sam, the tavern's current owner, has shown up at Wrigley Field with a goat on Opening Day several times to show that there were no hard feelings. In 2009, a Greek Orthodox priest blessed the Cubs' dugout with holy water. Then, in 2012, five Cubs fans calling themselves Crack the Curse walked more than 1,700 miles — with a goat named Wrigley — from the team's spring training camp in Mesa, Arizona, to Wrigley Field.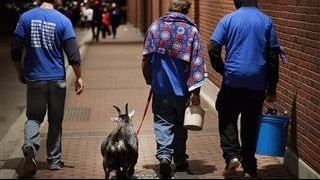 So what finally worked? Sound management.
Theo Epstein was hired as the Cubs' president of baseball operations after the 2011 season, when the team finished last in its division. Four years later, the Cubs were in the playoffs. A year later, they're champions.
Related: Watch Bill Murray React to World Series Triumph
Epstein has experience with these things. It was Epstein who, as general manager of the Boston Red Sox, built a team that also won the World Series in 2004 — breaking the 86-year-old Curse of the Bambino, which dictated that the Red Sox would never win a title because they traded Babe Ruth to the hated New York Yankees after they won the championship in 1918.